According to tradition, in 1819, a three-member committee went to Istanbul to ask for a firman
(financing by the Turkish Authorities) for building a Temple in the site where the ruins of the older
temple of Virgin Mary where still standing. Instead of the firman, the Grand Vizier (Turk Officer)
gave a sealed envelope to be delivered to the Turkish Commander in Heraklion, containing the order
of hanging the three members of the committee to death. Indeed the Officer opened the envelope
and immediately led the Committee into prison in Heraklion. One day before the hanging of the
committee, the executioner suffered a heart attack and died. The Commander considered that a bad
omen and decided to allow the committee to build the church, however within 40 days. The
committee travelled to Neapolis and the Christians from the surrounding provinces willingly offered
to help. There were so many locals, that stones from the quarry to the Church were transferred
from hand to hand. Indeed, within the 40 days the church was ready and was inaugurated by the
Bishop of Petra, who was murdered by the Turks in 1821.
In 1972 Manolis and Maria Pytikakis were instrumental in erecting a marble
monument on the site of the Church of St. George to remind future generations
of the atrocity which took place there in 1770. The Turks entered one night and
slaughtered the priest and the congregation. The blood flooded the church and
covered the forecourt. Since that time it has been called "St. George the
Bloodied". On 25 March 1821 the Revolutionary Flag was raised with the words
"God Save Crete".
Located 1 km from Neapoli this is a ruined Franciscan monastery,
which has typical Roman Catholic architecture. Near the monastery,
in Vigli place, is a modern sculpture. On the first Sunday of May,
Mothers' Day is celebrated here.
Kremasta Monastery is located south of Neapolis town, on the road connecting the town to the village of
Vrisses, overlooking Neapoli.
It is built on a steep wooded hillside of Mount Kavalaras and gives the impression that it's hanging
(Kremasti means hanging).
1593: The monk Mitrofanis Agapitos founded the monastery.
1622: Nikiforos Anifant built the church.
1821: Petros Dorotheos founded the school of the monastery, which soon gained immense fame
throughout Lassithi prefecture.
1866: The Turks destroyed the monastery. The monks managed to escape and hide the sacred relics and
books of the monastery in a nearby cave, but they were severely damaged by moisture.
1868: The Turkish commander of Lassithi, Kostis Adosidis Pasha, settled in the monastery while he
coordinated the building of the Headquarters of Lassithi Prefecture in Neapoli, the new capital of Lassithi.
1940: During the German Occupation, guerillas found shelter in Kremasti.
1992: Bishop Nektarios renovated the monastery.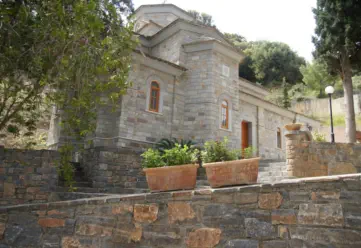 Kremasta Monastery
Fraro Monastery
St. George
Megali Panagia